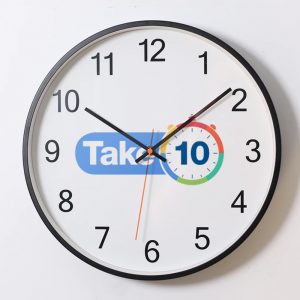 The Take 10 campaign has a very simple motive: Take 10 minutes at 10 a.m. every day to be mindful of your health and wellness. This can look very different for everyone, but the benefits are limitless.
The goal is to create a simple habit or to adopt a healthy behavior such as taking a short 10-minute walk around the office, completing a stretching routine, taking time to meditate or doing a few breathing exercises — just to name a few.
All of these activities will help boost your physical and mental health.  You will also get the added benefit of being more focused, refreshed, energized and more productive with your time.
To join this campaign, simply download the Outlook Calendar invite that comes pre-loaded with a few suggestions. Adjust the dates for the appointment and enjoy daily reminders to Take 10. Alternatively, you can create a 10-minute appointment on your calendar to hold time each day to complete the activity of your choice.
Below are a few wellness resources you can explore to help you get started, each perfect for a 10-minute break.