Answers to your questions about COVID-19 vaccinations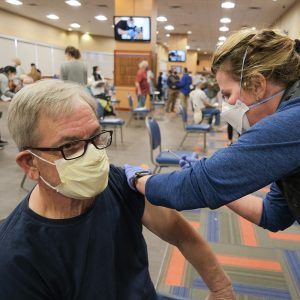 Now that COVID-19 vaccinations will be available to those ages 16 and older beginning April 5, more questions may be popping up as you make the best decisions for you and your loved ones. To find the answers you are looking for, we encourage you to check out our summary of Q&As with UF Health Screen, Test & Protect Director Michael Lauzardo, MD, MSc, taken from our series of town halls held last month.
You can also find recordings of answers to questions about vaccines from several UF Health experts, including one we've featured below, on this UF Health playlist.
If you have not already done so, you can now use this link to sign up to get vaccinated: https://uf.tfaforms.net/f/stp-vaccine-scheduling.
While you may be excited about the prospect of more faculty, staff and students getting vaccinated, it's important to remember that, as with any medical information, whether or not someone has been vaccinated is their private information, so please use discretion. Leaders and managers should not ask faculty and staff if they have been vaccinated, and no one should ask students if they have been vaccinated.
Read on for answers to commonly asked questions from UF faculty and staff.