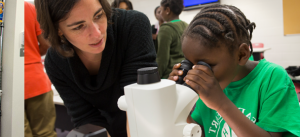 Looking for summer camps for your school-age children? UFHR Communications and Worklife is pleased to provide this quick-and-easy reference for parents. Know of a camp we're missing? Email us to let us know. We will continue to seek out additional camps so we may grow this list into as complete a directory as possible.
Please note: While we are happy to provide this listing as a service to our faculty and staff, the information provided does not indicate UFHR's endorsement of any of the camps listed. Parents are encouraged to do their research and explore each camp thoroughly, including screenings and background checks, before registering their children.
Virtual Information Sessions
If you missed our summer camp webinars, below are recordings to help you learn more about each summer camp and their plans for this summer.
Camp Directory
University of Florida Academic Athletic/Equestrian Fine Arts General Outdoor Virtual
---
University of Florida
---
Academic
---
Athletic/Equestrian
CAMP
DATES
AGES
LOCATION
CONTACT
EMAIL
PHONE
Animal Adventure Excursion Camp
7/12 – 7/16 & 7/26 – 7/30
7-17 years
7680 SW 46th Blvd
info@haileequestrian.com
352-665-RIDE (7433)
Archery Summer Camp
Varies from June through August
7-17 years
24880 NW 16th Ave. Newberry, FL 32669
customerservicenewberry@esdf.org
352-472-2388
Balance 180 Gymnastics & Sports Academy
Three sessions, 7/12 – 7/30
3+ years
6527 NW 18th Drive
https://balance180.org/get-directions
352-340-1180
Canopy Oak Trails Horseback Riding Day Camp
Ten sessions, 5/21 – 8/6
6-16 Years
Susan Trammell
TMMLL@aol.com
352-443-9456
Dance Alive Intensive Program
June
1325 NW 2nd Street Gainesville, FL  32601
Judy Skinner
judy@dancealive.org
352-371-2986
Dance Alive Summer Classes
June – July
1325 NW 2nd Street Gainesville, FL  32601
Judy Skinner
judy@dancealive.org
352-371-2986
Capoeira Summer Camp
Multiple sessions June through August
501 SE 2nd Street Gainesville, FL 32601
mico@capoeiragainesville.com
352-219-6106
Gainesville Area Rowing
Five sessions June through July
Grades 6-12
151 SE 74th Street, Gainesville
Hugo Moon
info@gainesvillearearowing.com
Gator Baseball Youth Baseball Camp
7/5 – 7/9
Grades 2-5
McKethan Stadium at Perry Field
Lars Davis
LarsD@gators.ufl.edu
Gator Swim Camps
6/5 – 7/3 Six sessions
8-18 years
UF Campus
Gymnastics Summer Camps
7/9 – 7/25 Three sessions
Ages 8 through high school seniors.
Jenny Rowland
jennyr@gators.ufl.edu
Haile Equestrian Center Summer Camp 
6/17 – 8/13
5-16 years
7680 SW 46th Blvd
info@haileequestrian.com
352-665-RIDE (7433)
High School Day Baseball Camp
7/26 – 7/28
Grades 9-12
McKethan Stadium at Perry Field
Lars Davis
LarsD@gators.ufl.edu
High School Gator Experience Baseball Camp #1
7/16 – 7/20
Grades 9-12
McKethan Stadium at Perry Field
Lars Davis
LarsD@gators.ufl.edu
High School Gator Experience Baseball Camp #2
7/21 – 7/25
Grades 9-12
McKethan Stadium at Perry Field
Lars Davis
LarsD@gators.ufl.edu
Horseback Riding Camps
Six sessions, 6/21 – 7/30
7-15
Pony Paddock at Dragon's Lair
Molly Cobb
ponypaddock704@gmail.com
386-853-0615
Middle School Gator Experience Baseball Camp #1
7/10 – 7/12
Grades 6-7
McKethan Stadium at Perry Field
Lars Davis
LarsD@gators.ufl.edu
Middle School Gator Experience Baseball Camp #2
7/13 – 7/115
Grades 7-8
McKethan Stadium at Perry Field
Lars Davis
LarsD@gators.ufl.edu
Oak Hall School Summer Packages
Varies throughout June and July
3-18 years
1700 SW 75th Street, Gainesville, 32607
Danielle Tripp
dtripp@oakhall.org
352-332-3609
Okito America
Varies from June through August
3+ years
6900 SW Archer Rd, Gainesville, FL 32608
Ovismar Maylin G.
www.okitoamerica.com/contact-us
352-338-7262
Outdoor Adventure Excursion Camp
6/25 – 6/25 & 7/19 – 7/23
9-17 years
7680 SW 46th Blvd
info@haileequestrian.com
352-665-RIDE (7433)
Play Tennis Gainesville 2021 Junior Summer Camp
6/21 – 8/13
6-14 years
Joyce Oransky Tennis Center, Westside Park
Brandon Mai
www.playtennisgainesville.com/contact/
352-559-8860
Sun Country Sports Center – Camp Sunny
6/17 – 8/6
2.5 through rising 6th graders
Sun Country Sports West Location
Erin Bruchert
camp@suncountrysports.com 
352-331-8773
UF Volleyball Camp
TDB
UF Campus
VolleyballCamp@gators.ufl.edu
---
Fine Arts
---
General
CAMP
DATES
AGES
LOCATION
CONTACT
EMAIL
PHONE
City of Gainesville Summer Camps 
Varies from June through August
Grades 1-12
rec@cityofgainesville.org
Fear Facers Camp
7/19-7/23 & 8/2-8/6
7-15 years
Kanapaha Veterans Memorial Park
Center for OCD, Anxiety & Related Disorders
352-265-4623
Gainesville Country Day School
5/24 – 7/30
Grades 1-12
6801 SW 24th Avenue, Gainesville
Kelly Childers
Kellypc99@gmail.com
352-332-7783
Girl's Place Summer Day Camp
5-15 years
212 NW 39th Ave.
Lynn@girlsplace.net
Jordan Glen School & Summer Camp
6/21 – 7/9
K-8
12425 SW 154th Street, Archer FL 32618.
info@jordanglen.org
352-495-2728
Kiddie Academy "CampVentures" Summer Camp
2-12 years
6476 SW 75th St, Gainesville, FL
352-264-7724
La Petite Academy of Gainesville
5+
2755 Archer Road, Gainesville, FL
352-371-0720
Millhopper Montessori School
6/14 – 7/16
Kristen Farrell
mmschool@millhopper.com
352-375-6773
Montgomery Center Summer Camp 
Six sessions, June – August
Grades 2-12
88 SE 75th St, Starke, FL 32091
Zach Leopold
Office@Momtgomerycenter.org
352-483-4516
North Central Florida YMCA Summer Camp
6/21 – 8/6
Grades K-10
5201 NW 34th Blvd.
352-374-9622
O2b Summer Camp 
Varies
Multiples
www.o2bkids.com/company-overview/contact-us/
Oak Hall School Summer Packages
Varies throughout June and July
3-18 years
1700 SW 75th Street, Gainesville, 32607
Danielle Tripp
dtripp@oakhall.org
352-332-3609
Queen of Peace Academy Camp
8/3 – 8/14
4-13 years
10900 SW 24th Ave, Gainesville, FL 32607
Jessica Wilburn
jlwilburn@qopacademy.org
352-448-4557
---
Outdoor
---
Virtual