UF hits record $900 million in research awards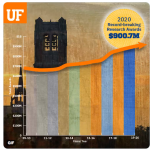 University of Florida faculty earned a record $900.7 million in research funding in fiscal year 2020, despite many activities being paused for more than two months by the pandemic.
The total is a 16% increase over last year and surpasses the previous record of $837 million set two years ago by more than $63 million. Over the past 10 years, research awards to the university have increased 45% from $619 million in 2011.
"This $900 million milestone is a testament to the thousands of faculty members who are helping to change the world with their research and scholarship," said David Norton, UF's vice president for research.
Read the full UF News story.